Chunqing Zhang, Mezzosoprano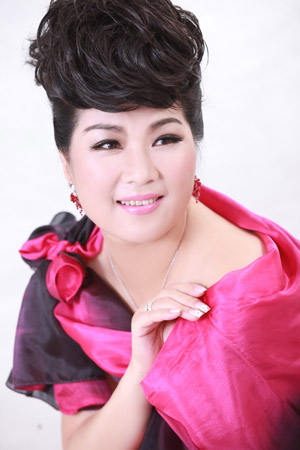 Mezzo-soprano Chunqing Zhang was born in Shandong, China. In 1992.
She began her studies at the Shanghai Conservatory of Music, where she obtained her bachelor's degree In 1997.
She continued her studies Hochschule für Musik Hanns Eisler in Berlin/Germany, where she obtained the master's degree and her PhD.
In addition to this, she received the German Bayreuth Wagner Opera Festival Award.
She also took part at Masterclasses held by the famous Italian Baritone Renato Bruson.
 
Her international career started with an engagement as a soloist at the Shanghai Opera House.
She was also invited by the Berliner Philharmoniker as a soloist for concerts on the Berlin Waldbuehne with the world famous Berlin Philharmonic Orchestra under the baton of renowned conductors such as Kent Nagano. 
The success of this concert, which was also recorded on DVD, set the foundation for her international career. She was also re-invited for a new year's concert with the Berlin Philharmonic Orchestra.
 

In 2006, she she won the first price in Paris, France in the Europe-America CCTV Singing Competition.
 
From then on, she performed with world class orchestras such as the Berlin Philharmonic Orchestra, Berlin Symphony Orchestra, Munich Philharmonic Orchestra, Hamburg Philharmonic Orchestra, Czech National Philharmonic Orchestra, Poland Warsaw Radio Symphony Orchestra, Poland National Orchestra, Juventus Symphony Orchestra, Poland Chopin Philharmonic Orchestra, Krakow Symphony Orchestra, Harbin Symphony Orchestra, Tianjin Symphony Orchestra, Wuhan Symphony Orchestra. 
She also sang in the Grand National Theatre in Peking/China.
Besides thus, she has been invited to the Berlin Philharmonic Concert Hall and Poznan Concert Hall to perform Mahler's "Das Lied von der Erde".
 
She has also sung several lead roles in the operas "Cosi fan Tutte" as (Dorabella), "The Magic Flute" (2.Dame) and "Ariadne auf Naxos"(Komponist) "Die Fledermaus"(Orlovsky) and "Madama Butterfly" "Don Carlos"(Eboli), "The Barber of Seville"(Rosina) and "Carmen"(Carmen) She also will perform the Chinese princess Turandot in "Turandot" and "Venus"  in "Tannhäuser.
 
Chunqing Zhang has also experience as a voice teacher.
In 2007, she became a member of the German National Association for Music Education, and is often invited to participate in arts discussion and exchange with the various professors from several music universities in Germany. In 2010, she was awarded the certificate of a "German National Vocal Trainer".
3 DVD's with singing lessons held by Chunqing Zhang have been included in the standard teaching material for singers in China.