Helge Dorsch, Conductor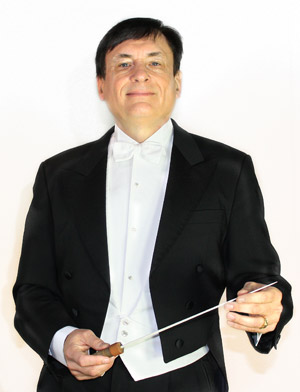 Born in Penzberg in Bavaria, Germany, Helge Dorsch studied conducting, piano and composition at the State Music Conservatory in Munich. He also completed summer courses with Prof. Hans Swarowsky in Ossiach and Vienna.
He began his career at age 20 as a repetiteur at the Bavarian State Opera in Munich.
Shortly after, he was engaged as assistant to Riccardo Muti and Claudio Abbado by the Salzburg Festival.
There followed engagements at the Bayreuth Festival as assistant to well-known conductors and at the Bregenz Festival, where he was named Head of Music Staff in 1990.
He also performed at the Baden-Baden Festival under Valerie Gergiev.
He has performed as a guest artist in many cities, including among others Hamburg, Berlin, Cologne, Bonn, Essen, Dortmund, Mannheim, Ankara, Istanbul, Teheran, Reykjavik, Budapest, Bucharest, St. Petersburg, Moscow, Riga, Minsk, Prague, Lisbon, Barcelona, Rome (Teatro dell'Opera and RAI), Bologna, Venice, Turin, Reggio nell'Emilia, Palermo, Catania, Cagliari, Nice, Bordeaux, Paris(Opéra Bastille and Opéra Garnier), as well as in the USA, Canada, South America, Central America, South Africa, Japan, China, Korea, Australia and New Zealand.
He has collaborated with singers such as Luciano Pavarotti, Mirella Freni, Hermann Prey, Brigitte Fassbaender, Eva Marton, Monserrat Caballé, José Carreras and Plácido Domingo.
At the age of 28 he was appointed to a professorship at the State Music
Conservatory in Detmold.
In 2003 he was appointed to a professorship at the Robert Schumann State Music Conservatory in Düsseldorf.
In 1997/98 he worked as a Guest Professor at the State Music Conservatory in Munich, where he had earlier completed his own studies.
In addition to this, he was appointed to teaching assignments at the Franz Liszt State Music Conservatory in Weimar, as wall as at the Hanns Eisler State Music Conservatory in Berlin, where he is teaching since 2006.
He has often been invited to give master classes in Ankara, both at the university and the state conservatory.
He has also given frequent master classes in China.
In recent years he has drawn attention as a conductor in Munich (Die Lustigen Weiber von Windsor in the newly opened Prinzregenten Theater), in Moscow (opening concert of the 1998/99 season with the Tchaikovsky Radio Symphony Orchestra), in Budapest with a double debut (State Orchestra and Erkel Theater), with another double debut in Shanghai (Shanghai Symphony Orchestra and Shanghai Opera House), as well as nationally televised symphony concerts and New Year's concerts in China and concerts and opera productions in New Jersey, USA.
In addition he conducted New Year's concerts in Bonn, China and the USA as well as gala concerts with singers including Lucia Aliberti, Katia Ricciarelli, Franco Bonisolli, and stars from the Bayreuth Festival and Vienna State Opera.
From 1998 -2003 Helge Dorsch was the chief conductor of the Loreley Festival on the Rhine, which was founded in 1997 and for years was the largest touring theater in Germany. To critical acclaim he conducted Fidelio(1997), Carmen(1998), Der Freischütz(1999), Die Zauberflöte(2000), Nabucco(2001), La Traviata(2002), and Carmen(2003).
From 2000-2002 he was also chief conductor of the Opera of New Jersey, USA.
Since 2004, Helge Dorsch has been head of music staff and conductor at the Tyrolian Festival in Erl, Austria.
In 2008 he was engaged as the head of musical studies at the Bregenz Festival for the opera production Karl V by K. Krenek.
In addition, he was invited in 2008 by the opera studio of the Opéra Bastille (Atelier Lyrique) in Paris, where he provided the musical preparation for several concerts as well as an opera gala concert for the Louvre and Palais Garnier.
In 2008 Prof. H. Helge Dorsch founded the Musikschule am Aalto Theater in Essen, Germany (European Cultural Capital 2010).

In the same year, he was engaged by the Netherlands State Opera in Amsterdam for the production of R. Strauss' Die Frau ohne Schatten.
With the 2008 Olympics came the opportunity to conduct two gala concerts at the newly built National Grand Theater in Beijing followed by a guest performance in Hohhot/Mongolia. In 2009, he returned to China for master classes in Beijing and Suzhou and more symphony concert.
The same year he was engaged by the Bolshoi Theater in Moscow for Alban Berg's Wozzeck, the first German opera production of this famous theater.
In 2010 he led a master class at the Academy for Young Singers at the Mariinskij Theater in St. Petersburg. He also prepared Mozart's Don Giovanni at the Latvian State Opera in Riga, as well as giving a master class for opera singers there.
The year 2011 began with master classes in New York/USA, Ankara (Baskent University), and with symphony concerts in Wuhan and Beijing, China.There followed more master classes at the Academy of Montegral in Lucca, Italy and the Baskent University in Ankara.
In summer 2011, Helge Dorsch was engaged for Wagner's Tannhäuser and Die Meistersinger von Nürnberg at the Tyrolian Festival, Austria, and in the fall led master classes at the State Conservatory in Tashkent.

2012 brought him to New York, where he coached for the Metropolitan Opera, followed by more workshops at the Academy of Montegral and in Ankara as well as a master class at the conservatory in Mantua, Italy.
In 2012 he also returned to the Tyrolian Festival for "Lohengrin", taught more master classes in Tashkent, and gave symphony concerts in China, Poland, USA, as well as gala concerts with the "German Tenors" in Munich, Potsdam, Dortmund, Leipzig, Stuttgart, Shanghai and Vienna, among many others.
2012/13 he was engaged for the first Tyrolian Winter Festival in the newly built Festival Concert House in Erl, Tyrol, and a gala concert on the Loreley open-air stage with stars from the Verona Arena Festival.
The year 2013 began with a Gala Concert with the "German Tenors" in Bayreuth on occasion of the "200th anniversary" of Richard Wagner.
This was followed by a master class for young opera singers at the State Music Academy in Riga (Jazepls Vitols Latvian Academy of Music) and master classes at the Academy of Montegral in Lucca, Italy and the Conservatory of Mantua, Italy, and finally, symphony concerts in the USA and China.
He has also been invited by the Latvian State Opera in Riga for the revival of Wagners "Die Walküre".
The year 2014 started with Workshops and Masterclasses in New York/USA, Mantua/Italy followed by another Masterclass in Ankara, concerts in China, the Tyrolian Summer-Festival (revival of R. Wagners "Tetralogy"), Masterclasses in Rimini/Italy (Instituto Superiore di Studi Musicali G. Lettimi) as wall as in Buenos Aires/Argentina (IUNA, Instituto Universitario Nacional de Arte), followed by the Tyrolian Winter-Festival 2014/15.

The year 2015 began with a production of "Parsifal" at the Berlin Staatsoper, where Helge Dorsch worked together with Daniel Barenboim.
This engagement was followed by master classes in Lucca/Italy (Accademia di Montegral) and Mantua/Italy (Conservatory) as well as a tour of Gala-Concerts in Germany with the Frankfurt Symphony Orchestra and the "Stars of the Arena of Verona".
Daniel Barenboim has also contracted him for a master class at the International Opera Studio of the Staatsoper Berlin.
This was followed by an engagement for a master class at the "Istituto Superior de Arte" , held in the "Golden Hall" of the Teatro Colon in Buenos Aires/Argentina.
In 2015, he is also engaged at the Tyrolian Summer Festival, followed by a Tour of China, during which "Tristan und Isolde", "Meistersinger" and the complete "Ring" were performed for the first time in Peking and Shanghai.
The year 2016 began with a master class at the Opera Academy Schloss Henfenfeld/Germany followed by a tour of China with master classes and concerts in 10 cities, the first tour of this kind in China.
In April 2016, he returned to China to conduct the Opening Concert of the New Opera House in Peking/China in the Century Hall.
In May 2016, he started the farewell tour with the famous German Heldentenor René Kollo followed by the Gala Concerts "Italian Night" with international singers and the Frankfurt Symphony Orchestra under his direction.
In the same year the Opera-& Concert Association "Orpheus European Classics" was founded and Helge Dorsch was appointed the first artistic director and chief conductor of this company.
The opening production of "Orpheus European Classics" is Mozart's "Magic Flute", touring through various cities of Germany and Italy,
This engagement is followed by a tour with the "German Tenors" and another master class at the International Opera Studio of the Berlin Staatsoper.
In 2016, Helge Dorsch was additionally appointed music director and principal conductor of the New Opera House in Peking/China (Laiyin Opera House). He begins his tenure with a new production of Verdi's "La Traviata" with an international cast.
As an accompanist for Lieder recitals he has worked with singers such as Hermann Prey, Luciano Pavarotti, Jose Carreras, Katia Ricciarelli, Gwyneth Jones, James King, Francisco Araiza, Edith Mathis, Karl Ridderbusch, Oskar Hillebrandt, Jan-Hendrik Rootering, Ortrun Wenkel, Kurt Moll and many others.
As a pianist he has attracted attention with his CD recording "Liebestraum", Pearls of the Romantic Piano Literature.
As a composer he has produced song cycles celebrating music around the world, such as his "Mexican Songbook" as well as "Brazilian, Anatolian, Haitian, and Greenlandic Songbooks". In addition, he has taken a stand for the preservation of the tropical rain forest in Brazil with his composition "Funeral March for a devastated Environment".
Besides his German mother tongue, Helge Dorsch speaks English, Italian, French, Spanish, Portuguese, Turkish, Russian and Chinese.
Helge Dorsch has been praised in the international press not only for his detailed and brilliant interpretations, but also for his enthusiastic, temperamental and expressive musicianship, which lends each score new brilliance and fresh élan.